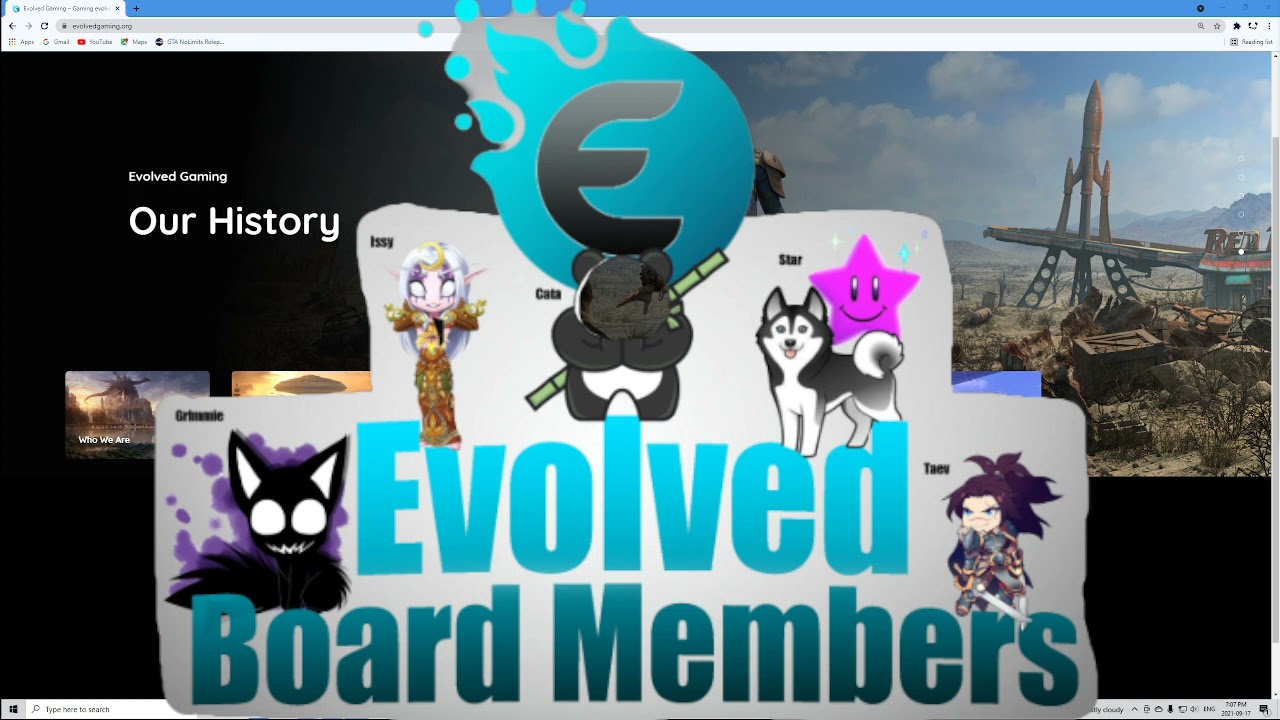 Evolved 3rd year Anniversary
Opening Address to Community (Grimmie)
Hi friends! Thank you all for being here with us tonight on our 3rd year anniversary celebration. The Board's pleased to be able to welcome those of you that have been with us for years now, as well as those of you who are new to the community, we appreciate you all.
So, what do these meetings entail? During the anniversary our goal is to show you more of the community. Learn more about us, the Board that run Evolved. You'll also get to know more about our different guilds / chapters and general information about our community. After the meeting there's going to be some planned activities and games - these are for everyone, doesn't matter what your main game is or if you haven't been active long - just hop in the channel (which we'll go over later tonight) and meet other people in Evolved. Have fun or else.
With that being said, up first is The History of Evolved!
History of Evolved (Isilaura)
Finding a good gaming community can be hard to discover. What can be equally frustrating is feeling "stuck" in a gaming community whose ideals no longer reflect your gaming needs. The Architects that founded Evolved (Borders, Cataclysm, DJHaighted, Grimmie, Isilaura, Origin, Soulquake, Skye, Taevarth, and Wedgebert) had been gaming together since roughly 2012 through another organization. We all wanted to stick together and create an organization that would always "evolve" to meet the needs of the players and their unique games.
In August of 2018, Evolved was conceived to provide a drama-free, family-oriented, and people-focused environment for mature gamers who wished to play online without the antics often found in open games. We believe that the person behind the keyboard is more important than the pixels on the screen and that everyone should have the opportunity to play without fear of being harassed, heckled, or abused.
"Accomplished Casual" will define us for years to come. Yet, as we grow, we've broadened our minds to accept that not all games in the modern MMO and gaming world lend themselves to totally casual gaming. Our community will survive because it evolves; it adapts to the ever-changing games around us. Our officers and members work extremely hard and devote long, personal hours to creating a home for the most casual of the casual and to those who are driven to accomplishment. Your gaming experience matters … and we are building this place for you.
View more of our history at Evolved History as well as our new year 3 history at Year 3 History
What we enjoyed most in the past year (Board Edition) (Grimmie)
Well now lets hear from the Tri and Board on what they enjoyed most about this past year.
Cataclysm
That we got to see some new games being played and a chapter get created. As well as it took a Blizzard for the community to come together and realize that there is more out there then just one game. It's great to see FFXIV showing some great progress and some new life forming.
Isilaura
It's been a rough year and a half - but this place is always an escape from Real Life. My favorite thing about the past year was seeing the selfies and pics of people wearing the Evolved Merch. So happy people enjoyed it. It was definitely a bright spot.
It's also been journey in WoW - ending BFA, SL launch, SL patch delay, Blizzard's mess…but through it all I'm happy Evolved is here. Without a virtual outlet, I feel like I'd have gone crazy.
It's also been great watching FFXIV and Classic take off, and seeing New World start to grow before the game even launches has been amazing.
Star
I have really enjoyed finally being able to raid again with the WoW-A people after way too long of a break. It's been fun learning the fights and hanging out with everyone again! I've also loved getting the chance to see new people experience FFXIV for the first time and it's been great seeing how much the FC has grown over the past few months. And of course, I've enjoyed just being able to chat with people in Discord and seeing our community grow!
Grimmie I enjoyed raiding again after a long hiatus from it. Met a lot of really cool people in Wow-H! Now I'm just a bum waiting for Star Link after the "great move"
Taevarth (Read by Grimmie)
Like many people, it was an extremely rough year, so it was tough to enjoy things, but being around to see Classic WoW take off and the great job all the officers are doing since then stands out. That and playing Aliens with Avasti and Kaz when the npc "Hoe-Licker" popped up. At least I think that was what he said his name was.
What we're most excited about for the next year to come (Grimmie)
Now lets hear what the Tri/Baord are excited about for the up-and-coming year.
Cataclysm
Well with new world coming out this month and some other leaked information into some other games and blizzard games i feel that we are going to see some big changes in the gaming industry. Changes in what we can only hope where gaming company's listen to what the players want. Time tells the only truth.
Isilaura
Travel. I'm hoping to be able to travel more again. I seriously need to get out of the house more (safely).
I also hope (like Cata) that what we've been through the last few months with Blizzard will have real repercussions and lead to change in how the entire Gaming Industry is run and how it treats its employees. I was really let down, if not surprised, when the accusations arose (and only stayed in WoW b/c of the community we've built and the escape it provides) and I really want to see change for the better - in every industry, not just in gaming.
Star
I am looking forward to getting to check out New World later this month. It will only be a side game for me but it's always fun to try new games out with the people from Evolved. And I am super excited for the FFXIV expansion, Endwalker, in November! The story so far has been amazing and can't wait to see what is next. But mostly I am just looking forward to seeing what kind of fun we have as a community and look forward to whatever adventures we have together no matter what game it might be in!
Grimmie Internet. and then likely helping our community expand one of our games.
Taevarth (Read by Grimmie)
To see the newer guilds/chapters do well and the direction Blizzard will take their games.
Guild / Chapter News (Cataclysm)
First let's take the time to hear from our Guilds / Chapters from around our community. They are our driving force that bring in the most amount of our membership. We thank our Guild / Chapter Leadership and the Officers for the hard work and dedication they put in to keep these guilds going in our community.
Classic-A
Classic A has gone through a lot of changes since April/May of this year. Chief among them is our rotation in leadership. To date we have had many changes to nearly every role in leadership, including but not limited to Guild Leader, Executive Officer, Recruitment Officer, and our Raid Leaders. Despite the obvious connotations, each loss was not a detriment to our community but a chance for us to focus on what truly makes us great – our stalwart dedication to each other and our love for this game. Since the release of TBC, we have increased our member count as well as the activity both in game and in voice on discord. We have been striving to build not only an active, productive raiding guild but a family-esque, comfortable, fun place to be yourself.
In terms of raiding, prior to the release of P2, we have been taking 3 teams of 10 people to Karazhan on Friday nights and 1 group of 25 people to Gruuls Lair and Magtheradon, with an 11/11 and 2/2 clear. In addition to our official raid nights, we have a "permanent" 10 raider pop up Kara on Sunday nights lead by 2 gentlemen and a floating or rotating Kara raid lead by either our officers or one of our rogues. Both of these have been a huge success in getting our alts and rotating bench geared and nightbane kills, which is needed for SSC attunements. Starting tomorrow night, we plan on taking on the mighty bosses of SSC after the release of P2, with a core of our 25 strongest and most loyal raiders. Our goals are to gain enough experience and a few more members in order to fill out a second 25-person raid team, completing our 2 Core teams.
WoW-A
Another year gone. So crazy. We ended BFA strong (getting sooo many people that sweet Uncorrupted Voidwing before it disappeared) and burst into Shadowlands with a boom in our membership. We started out with a whopping 4 raid teams for Castle Nathria, which definitely added to the organizational chaos. But even so, it was so great to add to the Evolved family and gain some more long-time members.
We had a ton of growth in Shadowlands - so much so that we needed an ALT guild. It was fantastic getting to know so many WoW players. Once we got AOTC in Castle Nathria for our teams, we took on Mythic CN - casually as usual, with Drinky leading us to 3/10. And Austaria stepped up and started achievement runs at the same time - so many mounts gained!
We made it through the content drought, getting AOTC for everyone that joined us in raiding Old Denny, kept Open Raid going strong (really fun times with (mostly) Drinky and Medd leading the way), and said hello to many new officers. Even though it took forever to get new content, it was really great to hang out with everyone.
We've lately been through the ringer with our membership thanks to Blizzard's mistakes. But even when we had to say goodbye to old friends, we've been able to continue to make new ones. We've stayed strong with two raid teams - both teams got AOTC this past weekend - Bye Syl! (At least until the next part of the story
). And we've had many members helping others to achieve Keystone Master Season 2.
Going forward we hope to start our Mythic+ Mingle nights back up. If you're newer, this is where we build teams from sign ups to get guildies playing together and making connections in a teamwork environment. It's also a good place to learn to M+ - we try to start with lower keys and build them up over the course of the night.
Even though Austaria is stepping down from being an officer, and journeying over to horde-side, she will still be leading a Hide and Seek event in-game at 11 am PST. Come out and join the fun (and wish her well!
And a huge thank you to all of our Officers, past and present. We couldn't do it without all the amazing support you've given to the guild. It's a volunteer responsibility and you all do so much to keep this place running.
WoW-H
Wow three years together.
For those who don't know me, I'm Eskey and I'm the Guild Leader for Evolved's Horde guild on Area 52.
We have seen a lot of growth over 2021 but have also lost a handful of folks due to blizzards mistakes, but for the most part we are holding strong!
For our newer friends who are used to seeing lots of folks on and full raids – that wasn't always the case!
When I joined the guild years ago we would have to pug just to have enough to run our raids and dungeons. We have really stable and strong raid and dungeon teams now!
We have achieved AOTC very quickly and have had 5 kills for each raid team ! We are utilizing the skip and slaying early in the week to make sure we can get it on farm.
We are also going to be starting up our Casual one night a week Mythic raid team with a fluid reserve list to rotate folks in to get them some 252 gear and slay some bosses !
2021 has been great outside of raiding, too!
We have an almost full and fabulous officer team for the first time in a long while, and that's amazing.
(Quick shout out to the Horde officers past and present – a big THANK YOU for all the work you have done for our guild and community) A lot of work goes into trying to make things fun for folks.
We are working on putting more of an emphasis M+ Mondays with the help of Bunny ( our new events officer), and we have an enormous amount of folks in the guild with Keystone Master (2000 dungeon rating) numbering at 43 people in total!
We love dungeons!!
Shadowlands was the Horde's first expansion launch as a guild, and we have been having so much fun!
Happy Birthday Evolved, and it goes without saying , HORDE RULES , ALLIANCE DROOLS, FOR THE HORDE, FOR EVOLVED!
FFXIV
The FFXIV Chapter of Evolved has grown quite a lot in the past few months. We've begun running more roulettes, Deep Dungeons, and with the help of Raille even started the ARR Raids and Extreme Trials! Many thanks to Raille for spearheading that and getting us started down the path of raiding again, and introducing so many new folks to raiding in FFXIV. The next expansion for FFXIV, Endwalker, is releasing on November 23rd, 2021, or the 19th if you preorder it for early access! At the current moment, our server, Siren, is locked out for new character creation and server transfer, but this doesn't mean you can't join FFXIV and still play with Evolved! If you are in the same Data Center (servers are clumped into groups called Data Centers) you can temporarily "visit" Siren in-game and meet up with us there. Once Endwalker releases you can even visit from different Data Centers (we won't know how that works until EW releases and we see for ourselves). We're glad to see so many new folks around trying FFXIV and loving it as much as we do, welcome!
New World
Hello everyone, I am Mintolos, the chapter lead for the game New World coming out September 28th. We have had a long road to the launch, but it's right around the corner. Recently there was a big turnout for the closed and open betas. I hope everyone that came out got to dabble in new builds and experience the vast amount the game has to offer.
New World is an open world MMO PC game from Amazon Games. Overcome the brutal legions of The Corrupted and draw battle lines with competing players. We plan to hit the ground running and support the war effort by pvp or pve means. To those members that might want to try it out, we have a massive guide posted with info on most aspects of the game. With the launch we plan to continue recruiting on multiple sites that support the game. I am hoping to see new and old faces upon launch as Evolved ventures into a new mmo.
Community News
A Voice to be Heard (Isilaura)
Each and every one of you has a voice to be heard. So please always remember to use it. Little bit confused? Well, I'm going to explain it. Do you feel like you are just a number? Or a cog in a wheel? Well here in Evolved you are not that. You are a member of a community that always has a voice to be heard. We just encourage you to use it.
If something is troubling or concerning you, please come and voice your opinion to the game you play's leadership. Bring it to the attention of the Officers, Guild or Chapter Leader of the game you play. As well as if you feel something is bothering you about them, then bring it to the attention of the Tri and Board. We want our members to know that we do listen to your comments, questions and concerns. Some things take more than one night to figure out. It might take a day or 2 or a month, but we do try to make this place a safe place for you all to be in.
So please - Take the time to use your voice. Take the time to sit down with Officers and Leadership and express your feelings. Don't let it build up by bottling it up then explode publicly. We are here for you always.
Discord Statistics (Grimmie)
We have seen a lot of activity with Text channels. We really feel that the "community news" section is doing pretty good for what it was intended. Just to give you some numbers throughout our community we have seen:
450+ different members visit the discord and click on a text channel
250+ different members have typed or talked
10+ New members each week have come to the community to check it out
1180 Members is our current tally that have the Member Role with in our community.
What does all this mean? Well, we roughly have 400 to 500 active members per month that check out discord out of the 1180 members that have the member tag. We'd always like to see higher numbers, but it's nice to see such high monthly activity - which we hope means we're keeping 1/3 of our community happy. Which in the grand scheme of things, that is damn good.
Discord Usage (Star)
There has been a lack of people using discord as of late. We like to see our members being active and vocal, hanging out and having fun. Even if you are shy and don't like talking, attempt to be on while gaming. If you see people on, go and visit them. If they're in a party channel, go and listen in. We want to strive at being a social community where we interact with each other. Be on discord and go chit chat with your fellow community members and get to know each other.
Please be advised we have some complaints about members cussing excessively, being rude and/or loud. Please take this as a reminder that if someone asks you to stop, please do so. Just reign it in while still participating in the conversation. If you've asked someone to stop, and it continues, please contact an officer of the game you play. If an officer is not available, contact any other Officer, Guild or Chapter leader, or the Tri/Board - they will relay the information to the appropriate person.
Discord Notifications (Cataclysm)
Many people are noticing that our community is growing - which is amazing by the way. More games equal more members and more potential friends. But it also means more discord channels - which can equal navigation confusion. Here is a simple way to fix our large discord channels to better suit what you are looking to see and not see. Please follow these instructions:
Find the Category you wish to not view any more
You will need to minimize it

Look for the Down Arrow next to the category title

Click the Down Arrow so it now points to the left
Right click the category and look for "Mute Category"

Drop down will appear
Click the "Until i turn back on"
Now you won't get any of the "White notifications" but please keep in mind if you are @ mentioned by someone personally (for example @ Cataclysm) or a role tag, it will still show up as a "RED notification". This is to ensure you don't miss out on any information.
We really hope this step-by-step outline assists you. But if not, we also have an image to assist you as well. Remember if you need assistance with Discord, please ask.
Community Swag (Isilaura)
Last year we were so surprised by how many of you purchased shirts with the Evolved logo on them. We knew there was interest, but we were definitely surprised by how much. Thanks to everyone that bought one and who posted pics!
For information on where the money goes, check out Evolved Expenses - Where the Donations and Profits Go
And if you're still interested in Evolved swag, here's the T-shirt we've created to celebrate the 3rd Anniversary of Evolved:
And some of you may remember the Swag Poll we had up - well we listened:
https://my-store-1f186f.creator-spring.com
The Storefront is still being worked on - TeeSpring hasn't gotten back to me on why I'm unable to edit - but it's TeeSpring, so your purchase is secure, even if the "store" looks a bit weird.
Go get that merch! (If you want to!)
Community Veterans (Grimmie)
Once a year, the Board and Triumvirate will reach out to our Guild and Chapter leadership within Evolved. This will typically happen a month or two prior (July or August) to Evolved's anniversary (September). Leadership will be contacted to make nominations of 3-5 members from their respective guild or chapter for Community Veteran rank. The Board and Triumvirate will then vote on the nominations.
Congratulations to our new Evolved Community Veterans. By being active, always helping, chitchatting and being outstanding members, we congratulate and promote the following members to Community Veterans:
Odobo
Merff
Damon Turok
Fizzix
Hijak
Swordnboard
Stale
Raille
Seiste
Bookclub (Star)
For those of you that aren't already aware, we have been doing an Evolved Book Club using Goodreads for our voting/book discussions. It's been a ton of fun reading the same books as others in our community, meeting to chat about them in Discord, and using Goodreads for discussion. We are currently on our 13th book and are reading To Sleep in a Sea of Stars. If you are interested in joining, feel free to message me, or check out the #bookworm channel on Discord! Even if you don't think you can keep up with our current books, feel free and check out some of the ones we read in the past. Link to Evolved Goodreads: https://www.goodreads.com/group/invite/1099179-evolved-gaming?invite_token=NzVhM2E0NGUtYmNjZS00OGU4LTk4ZjctMTE5YTFlY2I4MWIy&utm_medium=email&utm_source=copypastegroup
Seasonal Themed Screenshot Contest (Star)
Starting this October, we are going to be starting a new screen shot contest. We are going to be starting a "Seasonal" Screenshot contest. 4 times a year to match each of the seasons, there will be a new contest for you to enter. Your goal is to submit a screenshot from any game we play in Evolved, using whatever glamour/transmog, background/location, or even pets/mounts that you think represents that season best! At the end of that season cycle, all of the screenshots will be posted on the forums for everyone to vote on their favorite! Have fun and show off your character in your favorite game! The more detailed rules and instructions will be posted a bit closer to the first one in October so keep an eye out for it! Start thinking of your perfect fall picture!
Casual Gaming News (Cataclysm)
From the PC to Console, from Electric to Pen and Paper, here in Evolved we are always looking for the next best thing. We try and bring new games to our community all the time. Cataclysm and Taevarth keep a close eye on this section and adapt it as we see our members playing different games. We always ask that you do the following to assist us further (every little bit helps when it comes to our casual gaming section):
Game activity turned on

Lets us know what game you're playing

Be in Discord

Visually shows us people are active

Say something

Post in Gaming-Chat what game you're playing
Interested in creating a Chapter? Maybe even getting it to Guild status? Make sure you come chat with Cataclysm and Taevarth. Also check out the Casual Gaming and Chapter Information as well as read through the Evolved Casual Gaming and Chapter Creation Overview
2022 Get Together Update (Star)
With everything that is going on in the world, with the opening and closing of borders, different restrictions for different countries, provinces and states - we regret to inform you that we will not be having a get together in 2022. There are too many unchecked boxes that we feel will make it unsafe for the community to host a get together.
Q&A (Isilaura)
With the meeting portion of our 3rd year bash winding down (games are coming up soon!), we ask our members if they have any questions. If you don't want to speak, or don't have a mic, (or even if you didn't make the meeting), please DM one of the Tri / Board and we will get you question asked, answered and posted.
Close it with a big thank you to everyone! (Grimmie)
Thanks to all of our great members, you make our community a great place to be. The laughing, crying and shenanigans that go on through voice and text channels really make the day, the week and even the years to come so much way more much better to get through.
None of this would be possible without the love and support that we get from our membership. You really make Evolved such a great place to be; a nice place to have fun and unwind after a long day. Thanks for staying for the meeting, as we mentioned at the start, we have some great fun planned for the rest of the night and who better to tell you what we are doing than Star.
EVENTS, GAMES & SOCIAL TIME (Star)
You can stay in this channel if you want and just be social and hangout. Or follow some of the other members and go see what they are doing. We have a few games and events going on throughout the night so go mingle with the community. Even if you don't want to play the game, it's always fun being part of the audience or just hanging out and chilling while watching/listening others play. Read about how everything works at the Event Information
Cards Against Humanities Event
Jackbox
Trivia
Among Us
Fall Guys
Phasmophobia
Also Cataclysm has something we are carrying over from last year. So if you were not here last year or don't remember. Cata is going to go over what is happening.
Emoji Event (Cataclysm)
Once a year on our Evolved Anniversary we would like our members to participate in an Emoji Event. Each Guild, Chapter and The Casual Gaming Section will get a new text channel in their category. This channel will be called "(Game Prefix)-emoji-event". This is how it will all work:
2 Weeks to create images for Emoji's

Needs a Title and brief description.
One entry per member per category.

A voting poll will be created in each of the Guilds, Chapters and Casual Gaming forums

Voting will last 1-2 weeks.
Top 5 from each will be created with special tags
Note: Emoji's need to be LARGE and SQUARE in order for it to work correctly.
Either edit this post or reply with your ideas and suggestions,
Thanks all!